Why
"PayRay" loans?
Safe and secure
"PayRay" operates transparently and to the highest banking standards
Fast decisions
Your business grows fast, so we act accordingly
Banking licence
In 2019 European Central Bank issued a full banking license
Simple and flexible
Avoid the confusing and long process of getting loans
Loan
types

Investment financing
Financing solutions that meet your business expectations.

Working capital financing
Finance your short term business needs without extra hassle.

Real Estate financing
Get a loan for residential and commercial real estate projects development.

Agriculture financing
Implement your farm growth plans and get funding for equipment purchase.
Backed by trusted EU and
Lithuanian funds
"PayRay" is cooperating with trusted institutions to deliver your business reliable solutions.

ŽŪPGF helps businesses with insufficient collateral and financial resources to improve development and growth. Fund warrants favorable borrowing conditions and enables farmers and entities processing agricultural produce to borrow from "PayRay" on easy terms, with interest rates lower compared to those in the market. Credit Fund is established by Lithuanian Ministry of Agriculture.
European Investment Fund is a specialist provider of risk finance to benefit SMEs across Europe. EIF shareholders are the European Investment Bank, the European Union and a wide range of public and private banks and financial institutions. "PayRay" in cooperation with EIF is able to offer Lithuanian SMEs financing on more attractive terms.
INVEGA helps ensure the growth of your business even in difficult circumstances. Supported by the Government of Lithuania, it provides financial services to small and medium-sized businesses, ensuring more flexible financing options. "PayRay" in cooperation with INVEGA aims to help find their customers better financing sollutions and contribute to better SME ecosystem in Lithuania.
Your business will get new boost with
"PayRay" loans!
How it
works?
1
Apply
Complete our easy online application and we will contact you immediately.
2
We evaluate your application
After receiving the necessary documentation, we promptly evaluate the possibility of financing.
3
Get your funds
After a financing decision is approved, the loan agreement is promptly signed and the funds are disbursed.
We started working with "PayRay" when the company was still in the early development stage. Although we were very new to all the financial solutions, we quickly learned that factoring is a helpful tool to balance our financial flows. With a help of "PayRay" experts the process with our clients and suppliers was smooth and quick.
Tomas Šeškevičius
CEO at "TS Group"
We have been working with "PayRay" since 2021. During this period, we did not have any troubles; on the contrary, "PayRay" bank not only helped our customers to find best solutions how to finance the purchased assets, but also provided additional consultations on how to finance it under more favorable conditions.
Saulius Silickas
CEO at "Žemtiekimas"
We are official retailers of agricultural machinery and we recommend "PayRay" with full confidence as a financing partner to our customers: we have never been disappointed with the competence of "PayRay" specialists and the proposed financing solutions, neither did our customers.
Karolis Muduris
Sales director at "East West Agro"
The cooperation with "PayRay" bank is based on mutual understanding and great efforts to get the best result. For business, the most important thing in financing services is the price that corresponds to the assumed risk, the volume of financing, and the speed of providing services. "PayRay" succeeded in offering the best conditions for our businesses.
Austė Augustinaitė
Head of Strategy and Business Development at "Imlitex"
Finding a proper financing solution could be a very stressful and difficult part of the business. This experience could be rather pleasant and carefree if you choose your partners wisely. "PayRay" proved to be extraordinary professional and attentive to details as well as communicating everything clearly and in a very coprehensive way. I would 100% recommend "PayRay" bank as a professional, flexible and well trusted loan provider for your business.
Roberta Blekaitienė
Owner at "Kurhauzas" restaurant
"PayRay" bank provided the necessary financing under the conditions that met our capabilities, as well as added value in additional consultations with "PayRay" experts.
Vygandas Urbanas
CEO at "Saulėtas pušynas"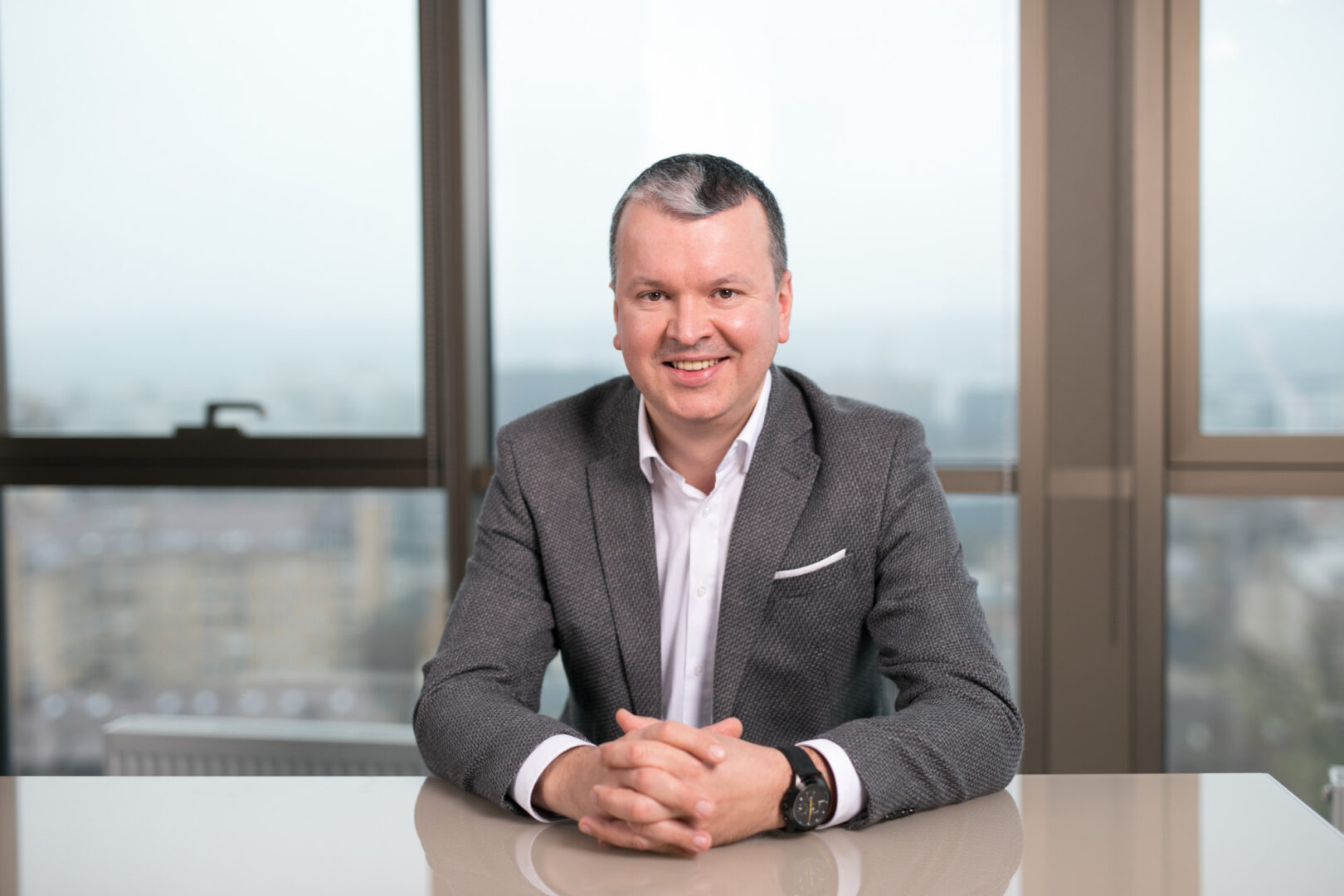 We are ready to
help you!
Nerijus Andrijauskas is Director of Commerce at "PayRay" since day one. Nerijus went through several stages of activity together with the "PayRay" team: "From the beginning, I was highly honoured with the opportunity to build a sales team, which would consist of proactive and eager sellers. The results achieved are excellent: during the first few years of operation, we managed to build 185 M EUR loan portfolio. One of the main products is factoring, with a portfolio size of more than 35 M Eur. I am glad that customers who use  factoring service highly appreciate the work of our sales team and often recommend us to others. Today, more than 600 business clients use various "PayRay" financing tools. Looking at these achievements of the "PayRay" team, I am confident that we are ready for even higher challenges in the future."
Nerijus Andrijauskas
Director of Commerce
FAQ
How to apply for a loan?
Contact us by phone +370 52143434 or email: sales@payray.bank. You can also leave your details by filling in a special contact form on our website. After assessing the financial condition of your company and financing needs, we will promptly submit an offer.
Can I get more than one "PayRay" loan at a time?
Yes, it is possible, but the total amount of financing cannot exceed 3 000 000 EUR. You can also use a loan, factoring or leasing at the same time.
What type of loans does "PayRay" provide?
Small and medium enterprises and farmers can apply for investment and working capital loans.
What loan maturity does "PayRay" bank offer?
The maturity of the loan depends on your need and the type of loan. Working capital loans are usually issued for one or two years and investment loans for a period up to ten years.
What are the property valuation firms that "PayRay" cooperates with?
"PayRay" bank cooperates with following property valuation companies: "In real", "Apus Turtas", "Ober Haus", "CRBE", "Colliers", "Marleksa", "KoVertas".